Italy, Netherlands diverge on EU rescue plan
POLITICS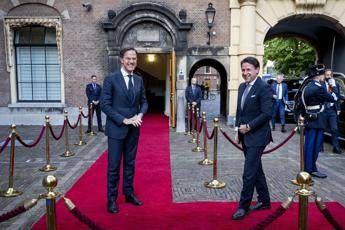 Pubblicato il: 11/07/2020 00:10
Italy and The Netherlands disagree on "several" aspects of the European Union's 750 billion euro rescue plan to help the bloc's economies recover from ravages of the COVID-19 pandemic, Italy's premier Giuseppe Conte said on Friday.
"Obviously I cannot say there is complete agreement. There are several points, various points, where there are still differences that we can work on," Conte said at a press conference in The Hague after talks with Rutte.
"I received a warm welcome, it was a cordial meeting that augurs well for being able to work together. There was an exchange of views in an excellent atmosphere," Conte said.
Conte and Rutte had agreed to "keep in contact" in the coming days before the EU leaders summit in Brussels next Friday and Saturday, Conte said.
"In this way we can better coordinate our efforts...towards giving the whole of Europe a rapid solution," Conte said.
The European Commission's planned recovery fund to help rebuild economies ravaged by COVID-19 is made up 500 billion euros of grants and 250 billion euros of loans.
The proposed fund has sparked divisions among EU governments with "frugal" countries like the Netherlands, Austria, Sweden and Denmark insisting the package be based solely on loans that need to be paid back.
At talks in Madrid on Wednesday Conte and his Spanish counterpart Pedro Sanchez urged EU leaders to agree on the rescue package this month. The two countries - the hardest hit by the COVID-19 pandemic - stand to receive the most money from the proposed rescue fund
RIPRODUZIONE RISERVATA © Copyright Adnkronos.