Islamic State claims attacks in Iranian capital
SECURITY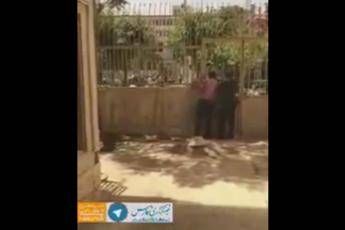 Pubblicato il: 07/06/2017 13:55
The Islamic State jihadist group has claimed Wednesday's deadly double attack on the Iranian capital, Tehran, the director of US-based terrorist tracking organisation SITE, Rita Katz, said on Twitter
Katz tweeted that IS news agency Amaq claimed the assault on Iran's parliament and the revered Ayatollah Khomeini's mausoleum - attacks which killed at least 12 people.
Amaq released a video taken by one of the attackers inside the Iranian parliament, showing a gunman and a dead body, Katz said in another tweet.
If IS's claim is authenticated, it would be the first time the group has taken credit for attacks in Iran.
In the attacks - the most serious terrorist violence in Tehran since the turbulent early years after the 1979 Islamic Revolution - gunmen stormed the parliament and Khomeini's shrine, detonating suicide vests.
Iranian officials reportedly foiled a third attack.
A suicide bomber died at Khomeini's tomb and Iranian media said at least two security guards were killed and about 30 people were wounded, including members of the public visiting the shrine.
Four attackers inside the parliament building had been killed by security forces, according to Iranian media.
It was not clear whether the death toll of 12 included the attackers.
At least one of the attackers was reportedly female, or possibly just dressed as a woman.
Despite Iran's active involvement in battling IS in both Iraq and Syria, the Sunni extremist group appears to have little support in the Shia majority country, according to analysts.
But IS has stepped up its Farsi-language propaganda efforts in recent months, targeting Iran's restive Sunni minority, and has began publishing its 'Rumiyah' online magazine in Farsi.
The Iranian intelligence agencies claim to have foiled an number of IS-inspired plots.
RIPRODUZIONE RISERVATA © Copyright Adnkronos.