Senators slam 'systematic violation' of Libya arms embargo
SECURITY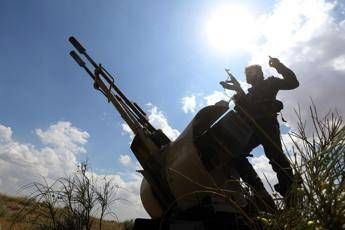 Pubblicato il: 21/05/2019 18:24
Ending the "systematic violation" of a 2011 United Nations arms embargo against Libya is the "first step" towards ending the worsening conflict in the chaos-wracked country, Senators from Italy's ruling populist 5 Star Movement said on Tuesday in a statement.
"The first step that must be taken to stop the civil war raging around Tripoli and which is threatening to reach Sirte, to halt the increasingly violent fighting that has killed over 500 people and displaced 75,000, is to stop the systematic violation of the UN arms embargo against Libya by the main Arab powers and a Nato member state," said the statement.
News reports have proliferated in recent days of the "massive" supply of weapons to both sides in the battle for Tripoli (between eastern warlord Khalifa Haftar's militia and those loyal to the (international recognised) unity government), the statement went on.
"The United Arab Emirates, Jordan and Egypt have been supplying Haftar and Turkey and Qatar have been supplying (UN-backed premier Fayez) al-Sarraj's forces," said the statement from members of the Senate foreign affairs committee.
Ships had docked in Tripoli and in the eastern port of Benghazi in recent days "laden with state-of-the-art armoured vehicles, anti-tank and anti-aircraft missiles, ammunition and sophisticated weaponry," the statement said.
"The proliferation of these weapons will inevitably fuel a further escalation of the fighting," the statement warned.
In tweeted remarks to the UN Security Council on Tuesday, special envoy Ghassan Salame urged the international community to take immediate action "to stop the flow of arms" and to pressure all sides in the deadly conflict for an immediate ceasefire and "a return an inclusive UN-led political process".
The warfare in Tripoli flared last month when Haftar's Libyan National Army began an assault to seize control of the capital from the beleaguered Sarraj government. Airstrikes and shelling have been deployed in the fighting in which Hafar's forces have failed to breach the defence line around the city and pro-Sarraj forces have not made significant advances.
International diplomatic efforts towards a truce between the warring sides in the battle for Tripoli continue.
RIPRODUZIONE RISERVATA © Copyright Adnkronos.